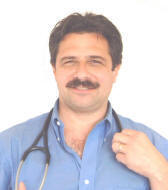 Neil F. Neimark, M.D., a board certified family physician, attended the Ohio State University College of Medicine where he graduated with honors in 1981 and was elected into the scholastic medical honor society, Alpha Omega Alpha.

While completing his internship, Dr. Neimark became disenchanted with traditional medicine's focus on disease and cure, rather than health and healing. He realized that even with the best of medical care and technology, patients were unable to break out of the cycle of recurring illness. Frustrated with his inability to help patients stay healthy, he began searching out the scientific basis for achieving optimal health and preventing disease.

In 1984, he attended courses at the Mind/Body Clinic of New England Deaconess Hospital, Harvard Medical School, where he met Herbert Benson, M.D. and Joan Borysenko, Ph.D., pioneers in the field of mind/body health and psychoneuroimmunology. This event redirected his life. With this newfound focus, he finished his residency and went on to complete a fellowship in academic medicine, focusing on the mind/body connection.

Dr. Neimark now serves as an assistant clinical professor in the Department of Family Practice, University of California, Irvine. He is in private practice in Irvine, where he successfully applies the principles of mind/body medicine to help his patients overcome illness and work towards optimal health and greater physical and emotional well-being.

Dr. Neimark is happily married and lives with his wife, Marta and their three children, Chris, Jenny and Arianna and their three dogs Tiger, Chewbaca and Gizmo. He loves spending time with his family just laughing and "hanging out." He is an accomplished songwriter, guitarist and loves writing his own original love songs in the "pop/rock/ballad" style. He dreams of having Carlos Santana teach him lead guitar, Sting teach him lyric writing, Billy Joel teach him melody writing and having Bette Middler sing one of his ballads on the radio!

If you would like to schedule an office visit, please call (949) 451-6060.